Data Means Safety For Utilities
"Are we sure this parcel owner doesn't have a gun?"
These are words you do not want to hear your drone field crew utter as they spin up to inspect critical assets in remote locations of your service area.
Field crews should have simple, secure, and centralized access to notes detailing past customer interaction, customer outreach, and comprehensive asset information from their mobile devices.
It keeps them safe and customers happy.
Most Utilities Have Complex and Silo'ed Systems
Getting the right data into the field isn't always easy. Crews require details from various systems.
Drone Flight Planning

Drone Image and Assessments

Asset Issue Tracking & Workflow Management

Emergency Issue Management

Vegetation Issue Management

CIP Issue Management

Construction Services Management and Tracking

Customer Outreach
Important information spread across separate systems and locations.
None of it easy to get to. Especially in the field.
We turn data into actionable information
Take a regulated public utility company in California that provides energy service to 3.6 million people through 1.4 million electric meters and 873,000 natural gas meters across a service area spanning 4,100 square miles.
Using microservices within AWS technologies, we created a centralized web application for drone and other field crews that provides comprehensive asset information and efficiently manage assessment and repair workflow.

Utilized by internal as well as third-party consultants, the solution simplifies issue remediation to meet regulatory compliance requirements as well as increases safety.
Learn more about how we can put data to work for you!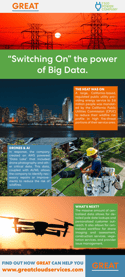 About GREAT:
GREAT is an AWS-focused cloud services company. We deliver optimized cloud migrations, AI/ML-driven business insights, and Managed Services to the world's top brands. GREAT is headquartered in San Diego, CA, with offices in Denver CO, and Buenos Aires, Argentina.