The COVID19 Effect, A Killer AWS Hack To Scale Unscalable Applications & The Rise of The Pandemic Plan
Visitor prioritization is an AWS retail hack any industry with insane traffic spikes can use.
Well...things have officially gotten weird. I think we can all agree on that. While many companies are seeing traffic grind to a halt other's have experienced an unprecedented spike in traffic. The financial services and government sectors, in particular, are struggling to maintain uptime as visitors swamp sites to apply for small business loans or unemployment.
Whatever you'd like to call it, AWS provides a few tricks to deal with traffic spikes. In addition to auto-scaling or services such as AWS Aurora and DynamoDB, online retailers use a method called Visitor Prioritization during the holiday season or when spikes in traffics are expected. It works especially well when you have legacy applications that can't scale to handle a sudden increase in traffic.

By using AWS CloudFront and Lambda@Edge you can build a Visitor Prioritization workflow that lets you control incoming traffic that can access your backend application.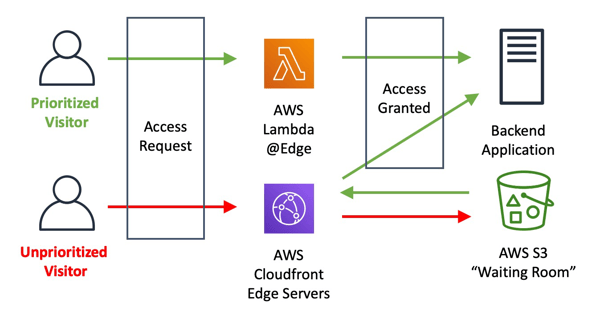 Other visitors are pushed to a "waiting room". This is an alternate, branded site where visitors queue while waiting to access the main application. Done correctly, they won't know they are queuing. You can define rules, grant access for specific visitors, and to make sure that those who need access to the application receive it for the duration of their transaction.
Visitor Prioritization is solid approach for dealing with traffic spikes especially for companies with legacy application that can't autoscale easily or those with specific access requirements. But remember, it's a hack, not a long term solution that addresses the lack of scalability in your enterprise.
The rise of the Pandemic Plan
It took 9/11 to remind everyone that a Disaster Recovery plan was critical to every business. COVID19 and "shelter in place" policies are ushering in an age where a Pandemic Plans will be standard for every enterprise. We'll see companies actively defining processes and deploying infrastructure that allow the entire workforce to work from home with minimal impact on the business.
But that's another article.
Learn more about getting the most out of your AWS investment from the experts at GREAT!
About GREAT:
GREAT is a Select Level AWS Consulting Partner and leading Managed Service provider. Focused solely on AWS technologies, GREAT is set apart from other firms by its extreme focus on cloud migration, modernization through Data, Analytics and AI/ML, and Managed Services. GREAT is headquartered in Encinitas, CA, with offices in Denver CO, and Buenos Aires, Argentina.
Topics: Modernization